You know you want to. So go ahead.
2 Cores – 4GB RAM – 40GB SSD

Try InetServices Cloud Server Hosting FREE for 30-days. It's as simple as that.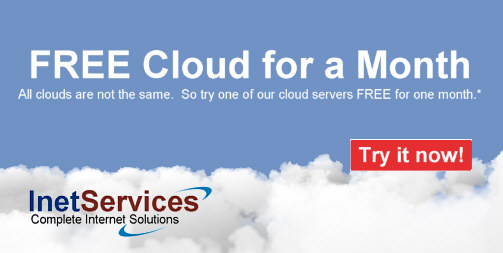 Anyone can can offer you a simple cloud server. But what if you need more? InetServices provides a comprehensive set of Enterprise-class services as well as next generation large-scale, performance intensive application solutions.

HIPAA & PCI Compliance Ready
InetServices provides compliance ready servers for financial institutions, eCommerce, healthcare providers, and government institutions both domestic and worldwide.

High Availability & DR Plans
Most businesses have simply neglected to implement a HA or DR strategy just because they think the cost is beyond their budgetary constraints. InetServices changes all that with easy and flexible plans.

Extreme Performance & Big Data Clusters
Whether you are looking for a SQL or NoSQL database solution our Extreme Performance SSD Cloud Servers provide the highest available IOPs in the industry. InetServices offers proof-of-concept, development, and production Hadoop, Cassandra, MongoDB, Riak, and Redis Big Data clusters to fit any need.
Flexible Cloud Server Options
Cores
Each server comes with a least one 2.0GHz core and is customizable up to 32 cores.
RAM
Start with 1GB RAM or choose up to 256GB the highest available in the industry.
Storage
Choose from 40GB up to 2TB of SSD. For maximum IOPs use our Extreme Performance SSD cloud servers with dedicated SSD drives.
Build your FREE cloud server



* Offer is valid for new customers only. Limit (1) FREE cloud server per customer. Valid credit card required for authorization. Card will be charged $1 for account activation. If the server is not cancelled within one month of activation the card will be charged for each additional month of service.